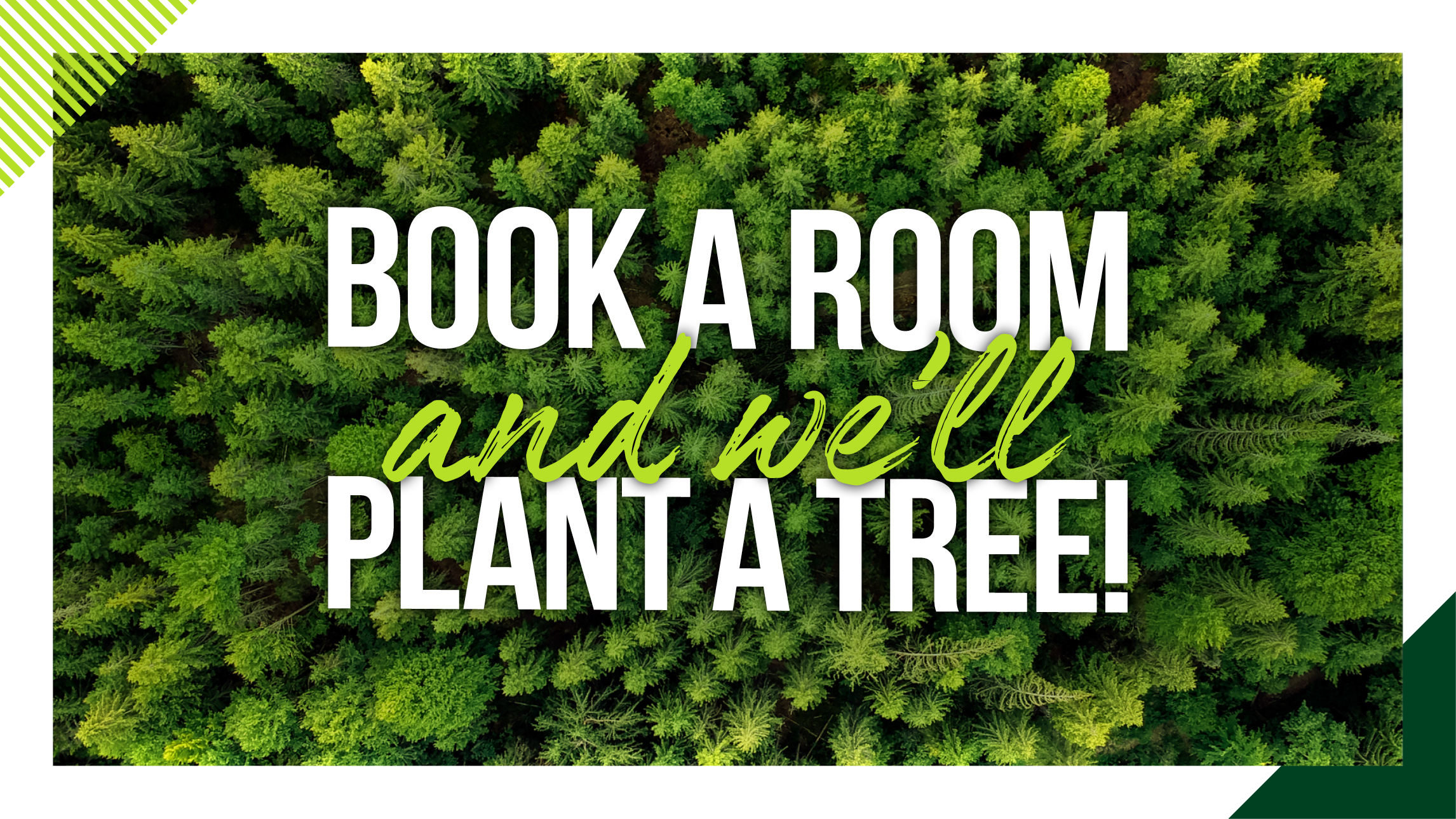 01 Dec

Book a room, plant a tree!
Book a room, plant a tree 🌲
We're showing our commitment to the environment by helping to fight climate change one tree at a time. We're promising to plant one tree for every booking. We hope to plant thousands of trees, which will absorb 600 tonnes of carbon dioxide and turning it into pure, clean, healthy oxygen 💚
We are working with planting partners across the world to restore healthy forests and reduce extreme poverty. Planting partners work with local communities too, providing work and a steady source of income for many people.
Climate change is our greatest threat and together, we can do something about it. Carbon dioxide is a harmful greenhouse gas that contributes a lot to climate change. It's one of the biggest challenges that we have faced, but forests are one of our biggest solutions. Trees take carbon dioxide and turns it into oxygen and one tree absorbs an estimated 0.3 tonnes of carbon dioxide over its life!
What are the other benefits to planting more trees?
The planet
Trees clean the air, filter water, improve soil quality, reduce flooding, and offer shelter.
Poverty
Trees provide work, improve crop yield, are a great source of income, and help the local economy.
Biodiversity
Trees support different species of animals, plants, fungi, mosses, invertebrates, and lichens.
Deforestation
Trees help restore animal habitats, purify water sources, replenish soil, improve weather patterns and ultimately, help healthy forests re-emerge.
Climate change is harming our planet, but small changes can make for a big impact. So, if you book with us, we'll plant a tree in your name. Somewhere in the world, you'll be nourishing our planet, reducing extreme poverty, supporting biodiversity, and reversing deforestation. We're SO excited about this partnership, it means a lot to us at Prime. We hope you'll join in us in the fight against climate change and book your room today!