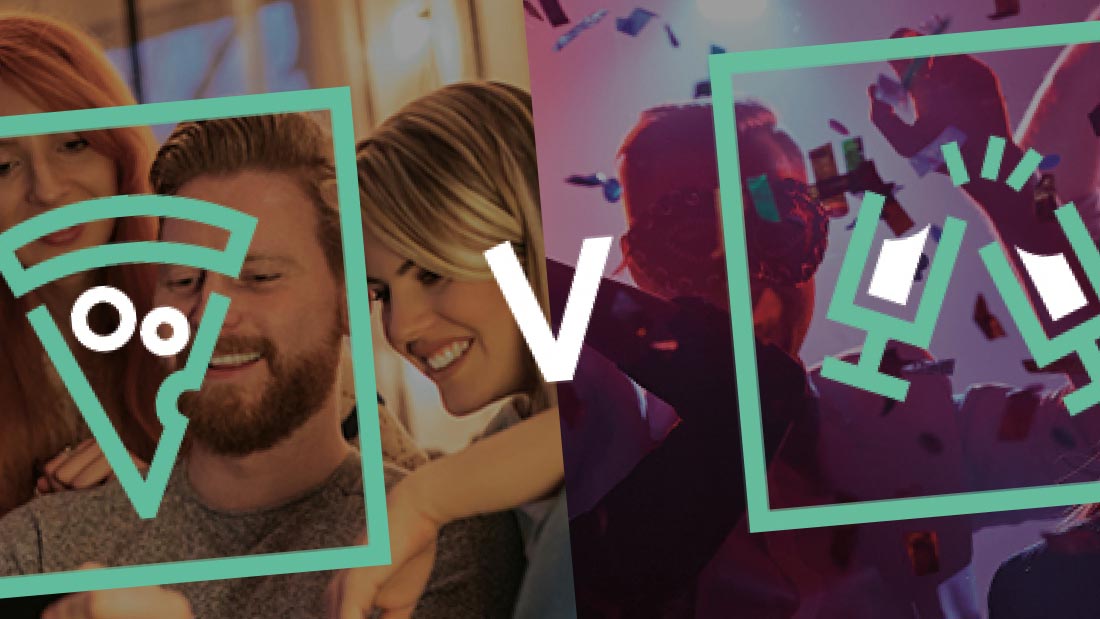 28 Jun

Night in V Night out

Do you live for a night out, or love a cosy night in? Whatever your preference, our city centre locations and facility packed properties cater for both.

Night out
Nights out are notoriously known for bringing people together, cast your mind back to freshers' week, Universities and Unions encourage these experiences as they're proven to work. You get to share your interests in places to go or what music you like. Not forgetting one of the best parts of a night out is the pre-drinks, when everyone's round the table or on the sofa swapping stories and playing games. One of the best ways to bond at pre-drinks is by having a killer playlist so make sure you've followed our playlist right here to host an unforgettable pre-drink.  On a night out one of the best things is obviously dancing, so dance your socks off, be silly, have a laugh, don't take yourself too seriously because before you know it, you've bonded over the macarena. But it doesn't stop there, you'll be having DMCs (deep meaningful chats) at 1am in the toilets together, chatting about how you feel like you've known each other a lifetime. Or the famous journey home, searching for your new favourite pizza shop.

If you're in a society then going on society night out is an excellent way of making friends with similar interests. Social nights are also good way of meeting people in different societies, that you may not normally cross paths with. Celebrating an occasion is often a perfect excuse for a night out with all your friends. If you love getting snap happy, then nights out are always a good way of capturing your Uni years and making your Insta look fresh.

Night in
A night in couldn't be easier in our properties, with large TVs and spacious common rooms, movie night never looked so good. Nights in are fantastic for socialising in the comfort of your own home, get your pyjamas on, snuggle up with a blanket and sit back and relax. With selected properties having Netflix, BT Sports and Sky Sports you'll never be stuck for ideas on what to watch.  Get stuck in to your favourite takeaway or crisp and dip combo while tackling a Harry Potter marathon with your mates.

If you're the competitive type then what better way to compete with your friends than to host your own games night tournament. You can spend hours battling it out with your friends, with properties offering table football, ping pong, pool and board games. The games are on.

How about hosting your very own dinner party in our impressive shared kitchens, perfect for entertaining. With our kitchens coming fully equipped to the highest quality, you can unleash your inner Jamie Oliver and cook up a storm.

Take Care
If you fancy saving some money and catching up on some sleep then the perfect plan for you could be an early night. Although socialising with mates is fun it's just as important if not more to look after yourself and wellbeing at University.  It's always a good idea to ensure you're up to date with your Uni work, why not have your mates round for study session? There's no better feeling than completing that assignment.

It's fair to say that both nights out and nights in come with a variety of superb benefits. Whatever your favourite activity, we've got the perfect space and locations for you to socialise with your mates. Not forgetting the endless amount of photo opportunities for you to capture your #PrimeMoments.