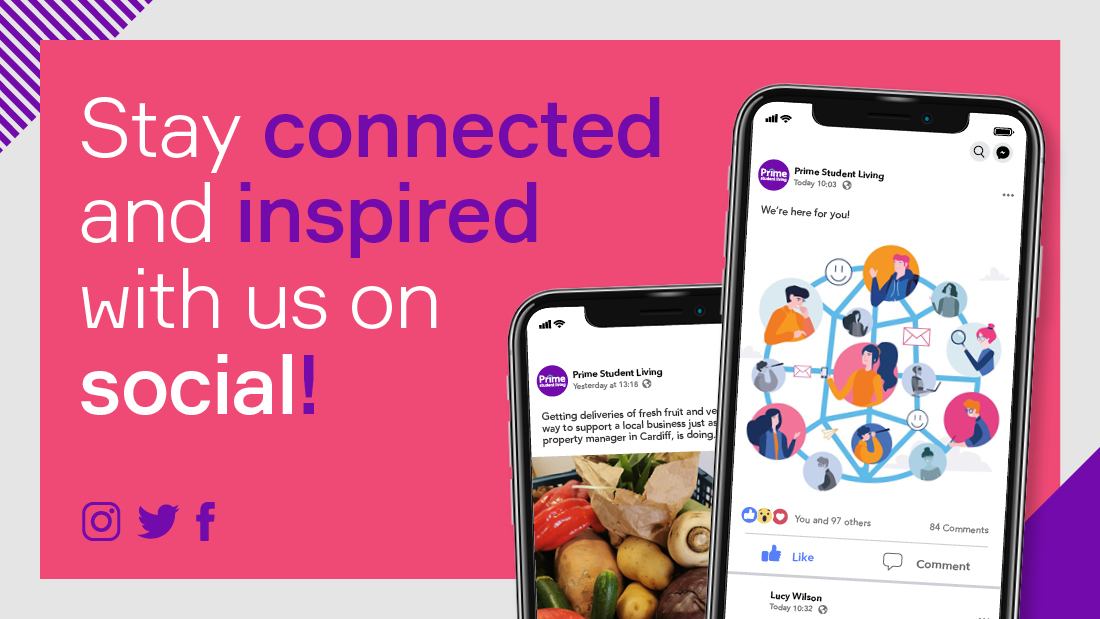 30 Mar

We're here for you! 💜
During this unusual time, social distancing doesn't have to mean we are any less connected. It can be the opposite! Here are some top tips on how to stay connected and stay inspired!
Stay in touch
Stay digitally connected with your family and friends. Video chatting is the way forward. You can still cook, eat and study together, plus you can stay in your pjs.
Please also stay in contact with us. If you are unwell, stay in your room and let us know via phone or email.
Routine
Sticking to a routine, can help you feel a sense of normality and calm. Get up, get dressed and start your day.
Having a realistic to do list can also create a sense of achievement. What's on yours?
Wellbeing
Make sure to include time for relaxation and things you enjoy. Use this time to pick up a new book, re-watch your favourite tv show, or start a new podcast. Let us know what you're getting up to.
Keeping active
Exercise is a great for both your mental and physical health and there is so much FREE content to discover.
Worried about losing progress? Get creative, make use of your home equipment and furniture.
Challenge your friends to a squat, or maybe a sit up challenge.
Try something new
Want to learn how to make sushi? Want to learn Spanish? Never had the time to read that book on your shelf? Never quite mastered how to do a push up?
Make now the time for you. Share your new passions with us, we'd love to hear about them.
Mental Health
If the current news on Coronavirus (COVID-19) is making you feel anxious, concerned or stressed, remember you're not alone.
There is lots of guidance on steps you can take to look after your mental health and wellbeing during this time – take a look at the following;
Mind
The Mental Health Foundation
Young Minds
All our Property Managers are Mental Health First Aid trained and can support you if you are struggling. Take one day at a time, you've got this.
Supporting others
We're all in this together and it's going to be tough for everyone. Help others where you can, but please follow the Government's guidelines for your safety and those around you.
You can support small business owners who are going to be facing many challenges. Why not arrange for a fresh fruit and veg delivery or purchase gift vouchers from your hair salon to use at a later date.
Let's turn this situation in to a positive and use it as a reminder to be kind to others.
Ready to be inspired? We'll be sharing one tip a day over on our socials, come say hi! You can follow us on Facebook, Instagram and Twitter.