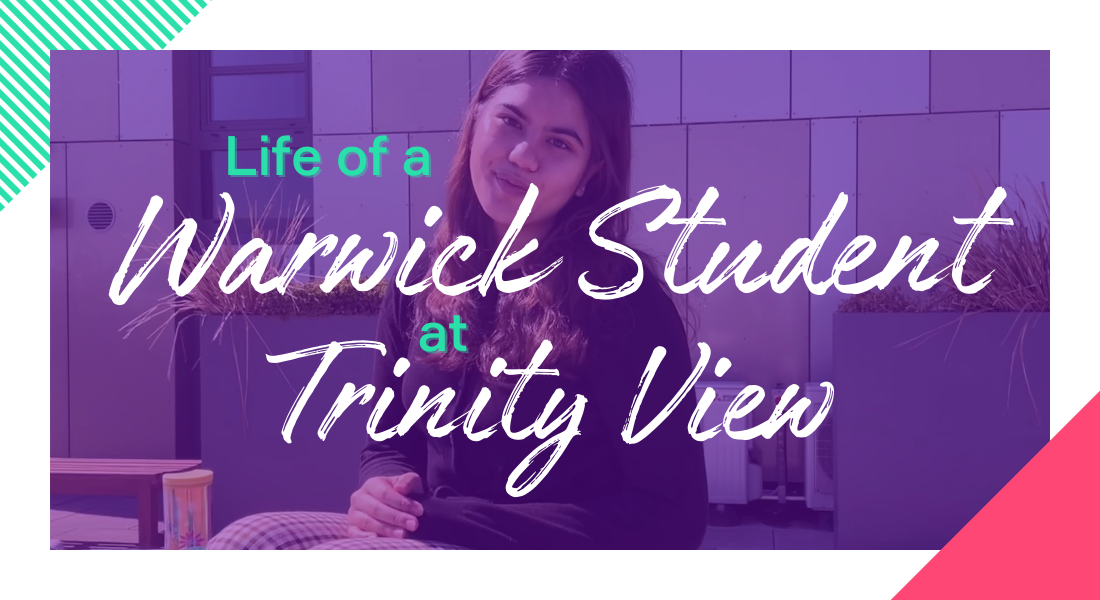 07 Sep

Life of Warwick Student at Trinity View!

It still amuses me that the University of Warwick is not actually located in Warwick, but it sits comfortably in the city of Coventry. This means that when choosing to live off-campus, many students explore the option of living in Coventry. Trinity View is one of the many buildings run by Prime and is located in the heart of Coventry, the site is perfectly near the train station, a 5-minute walk from city centre, and a 3-minute walk to the bus station which will take you into Warwick Campus. It couldn't be more convenient even if it tried! Thus, when my friends first pitched the building to me, I was instantly drawn to the convenience of it! Having lived in the site for almost a year now, I can truly say that living here was one of the greatest decisions I made. Therefore, I decided to write this blog to explore my personal experience of living in Trinity View as a Warwick Student.

Travel: When scouting properties off-campus, one of the most important factors that drove my decision-making process is location and commute. When I found out that Trinity View was located right next to a bus stop that is only 15/20 minutes away from Warwick Campus, I was instantly sold! What's best is that you don't even have to make this journey alone. I was pleasantly surprised to see just how many Warwick students were living in Trinity View and this means that more time than others, I have a friend to commute with.

Grocery & Food: While it is true that you can always order your grocery these days, having convenience stores and supermarkets close by is always a benefit! Whether it's simply a late-night craving or a much-needed ingredient for a dish, Tescos Express is the perfect place for you to pick up some last-minute items and it is only a 5-minute walk from Trinity! I find myself walking there almost every day for little bits and bobs. We also have a large Sainsbury in town which would only be a 10-minute walk – perfect for larger grocery runs! When it comes to eating out, the city centre houses some of the best local restaurants (of all cuisines!). Personal recommendation: Alley Food and Mood is the best Chinese restaurant in town and I highly encourage you to try it once here.

Social Life: I always enjoy finding new places to relax with my friends and Coventry has many perfect, student-friendly, bars and clubs that I recommend if you want to spread your wings as a social butterfly. From W Spoons to Turtle Bay, Las Iguanas to Castle Grounds – the options are endless! And all within walking distance of the building. If you are not a drinker, there are so many great places for socializing and hanging out with friends such as cafes, restaurants, and shopping departments located in the centre of the city. Treat Days at the property are also one of my favourite ways to socialise with fellow students in my building – there is always something on and amazing goodies to take away for FREE!

Studying: Trinity View provides the luxury of an on-site study room, this means that on the days when you do not have to go on campus (or when you don't feel like it) you can still have an incredibly productive day studying in the building. I am often seated in the study booths in the common room and can be there for hours before I get distracted. In walking distance we also have many cafes where you can read and take notes, Coffee #1 is my favorite! It has the best lattes and the most accommodating study environment.

I hope this blog has been useful in helping you get a feel of what it is like living in Trinity View as a Warwick Student. Overall, I would rate my experience a solid 9/10, the only thing making it better would be if the building was in Warwick University itself – but, you can't have it all, so I won't complain! Thank you for reading and please do reach out with any questions.
---
This blog was written by me, Annika Sirikulthada. I am a Warwick University student living in Trinity View, Coventry. I hope you enjoyed reading it and if you wish to write about your experience or be involved on social – speak to your property team!