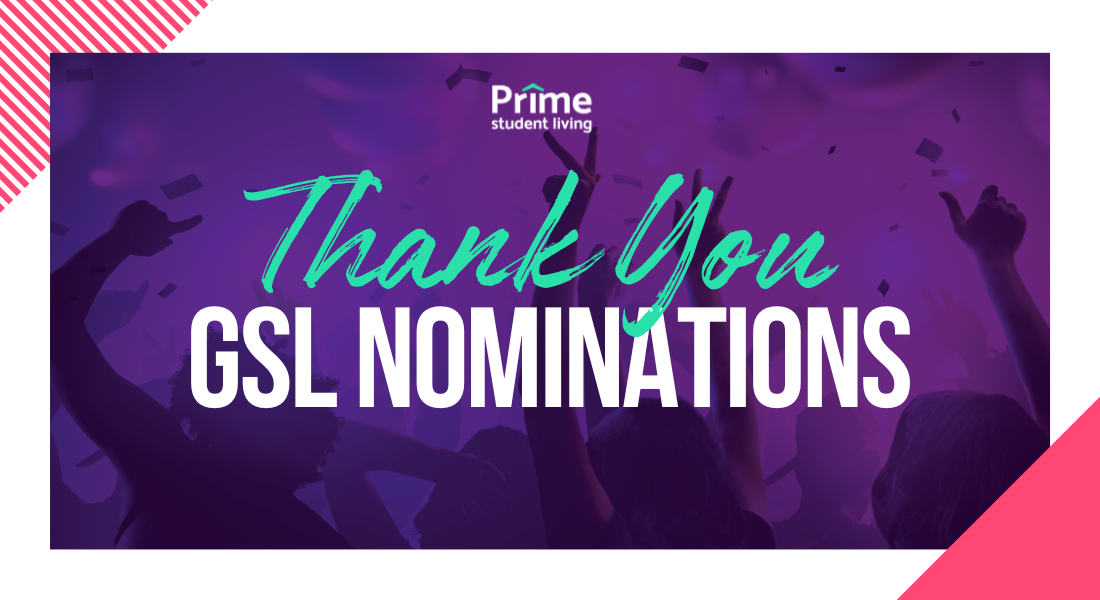 28 Sep

GSL Nominations

As we say goodbye to some of our 21/22 year students (and hello again to those who rebooked 👋), we wanted to reflect on what an amazing year we've had here at Prime.

We have recently been announced as finalists in the Global Student Living (GSL) awards! In not one but three categories; Best Broadband, Best Private Housing and Best Value For Money! These awards are based on the votes of our lovely students, and we are so thrilled to hear they have enjoyed their time with us!

The Global Student Living Index helps us to understand not only our own students, but student living and lifestyle all over the world. This information helps students to find the best places to live, as chosen by students themselves, as well as helping providers such as ourselves better understand the wants and needs of students.

Let's take a look at some of the kind things our students have to say about us 👀:
"An amazing accommodation that is absolutely worth the money and can't recommend it enough to people. Can't wait to live here next year!"
"The best one I've stayed in"
"I love my room, much bigger than I was expecting and a sea view!!"
"Howard gardens is a very good accommodation for first and second year students to live. It's a very social-able accommodation with amazing staff that you can see are a good team. It's very welcoming and I feel in a safe area."
"Love the roof terrace"
"I honestly love this accommodation"
"The overall accommodation is amazing by saving you money with your own washer and dryer in the kitchen as most accommodation you have to pay for these type of things."
"It is superb definitely would recommend to anyone"
We are absolutely blown away by these kind words and so thankful to our students for sharing them! Feedback is so, so important to us here at Prime as it helps us to keep adapting and getting better year after year. Check out our teams reaction below 👇
From our monthly Treat Days and events, to recent property upgrades, the students that stay with us are always at the front of our minds. We aim to give them the best student experience possible while creating spaces that they can call home!
Here's to the 22/23 year, if you have any ideas then drop us an email at hello@primestudentliving.com