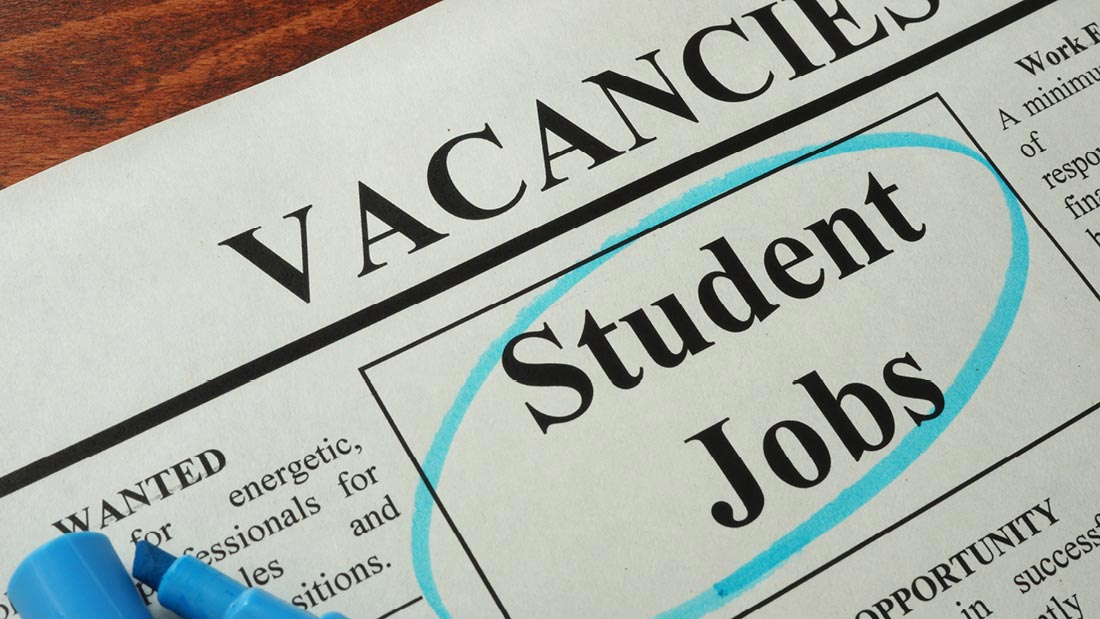 28 Jul

Best part time jobs at Uni

Best Part-Time Student Jobs
Now you've settled into Uni you may be thinking about earning some extra money and creating a CV. But with so many different types of jobs, you're unsure which to go for? Well fear not as we've got the best part-time student job ideas for you.

University is all about working towards a degree and gaining experience; having more experience on your CV can often make you stand out to employers. Having a part-time job can increase your confidence, people skills and shows fantastic time management. We've racked our brains to bring you the best part-time student jobs.

Working For Your University
You'll be surprised at how many varied and interesting jobs there are working for your university. Ranging from admin to ambassadors. Student unions are often looking for students to work part-time in their bars, cafés and shops, they can pay well and include discounts. A benefit of working for your student union part-time can be, they're flexible and understand the importance of your studies. If your apprehensive about committing time to a job but would like a bit of extra money in an enthusiastic role, then becoming a student ambassador is for you. You'll have to be willing to work on your University's open days. Your main roles would include showing prospective students around your university campus, being a positive representative of your course subject and answering questions in a friendly manner. Head to your University's student union website to browse through vacancies.

Tutoring
Tutoring can be one of the best jobs for students as it pays well and is flexible work that you can fit around your schedule. Don't worry, to become a tutor, you don't need a teaching qualification. You need to have specialist knowledge in an area that other people want to be taught e.g. maths, english, science, or a foreign language. You'll need to be patient, have great communication skills and be able to demonstrate excellent knowledge on the subject through high grades and references.  Tutoring looks great on your CV and demonstrates a wide range of attractive skills to employers.  If you can prove you're a fantastic tutor, then you could end up earning big bucks.

Bar and Events
Working in a bar can be perfect if you're social and outgoing, they're a super place for your confidence to grow. If you're willing to work shifts and don't mind the late nights, then working in a bar is the place for you. It can often be a social life in itself, you get to meet amazing people, work within a team and there's always music playing. A great benefit to working in a bar is the tips. One of the great things about working on events is the variety of activities. Events can range from festivals, conferences, weddings, parties, the list goes on. A lot of event jobs can be on a casual or temporary contract which often appeals to students looking to get flexible work experience. Events can also offer incentives such as a free festival ticket If you work the festival. They can be one of the best ways to build connections and network. Bar and event work can contribute some great skills to your CV, they show you can work well under pressure, work well in a team and have good communication skills.

Restaurants and Cafes
Similar to working in a bar, restaurants and cafes are a good place to further your customer service skills. Working hours in a restaurant and cafe are considered good as they close earlier than bars. Lots of restaurants and cafes have a variety of roles and are frequently looking to take on new staff. The pay is usually considered average for part-time work in restaurants and cafes, but you can rake in more money from tips, which is a bonus you don't get in many jobs.

Retail
Working in retail is considered one of the most popular jobs for students. Whether it's working in a supermarket or a clothes shop, retail is a huge sector which employs students regularly. As there are so many different shops around, especially if you're studying in a popular city, you'll be spoilt for choices with companies advertising jobs. Retail can come with appealing benefits to students, they have flexible hours and most retailers offer their staff a discount, which can be perfect for treating yourself, buying presents or even your weekly food shop! Working in any retail job gives you fantastic customer service, numeracy skills and demonstrates experience with cash handling. Not forgetting retail helps you stay bang on trend with new fashion and gadgets.

Being in a bustling city there will be plenty of part-time jobs waiting for you to apply. So why not get searching today. But remember it's important to ensure you have enough time to study too and find a balance work & Unilife.