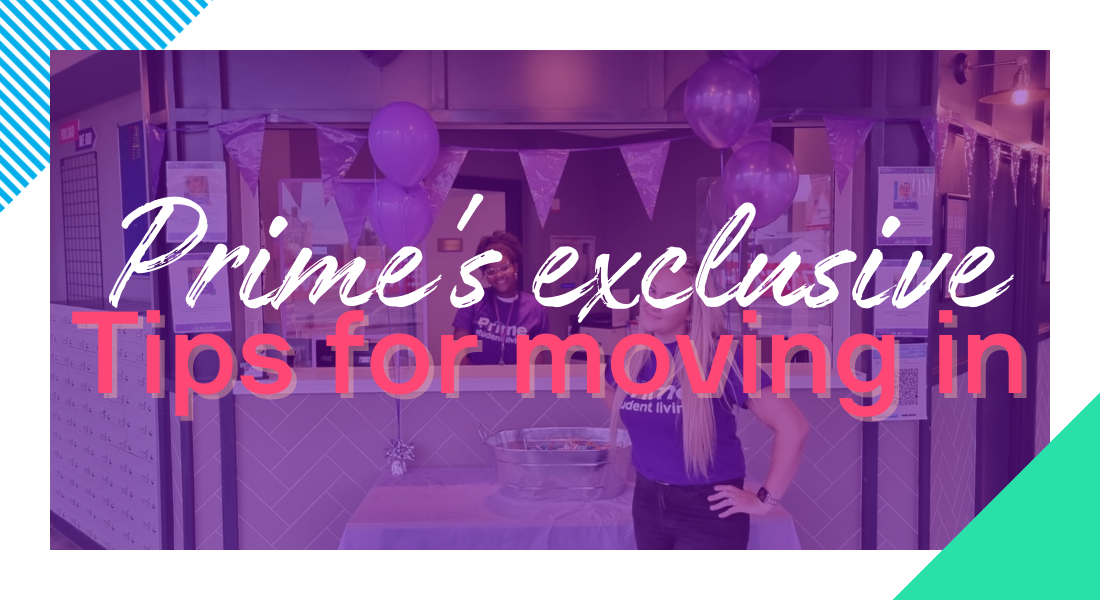 07 Sep

The Ultimate Tips, Tricks, and Advice for Moving In

Regardless of how far away you are from home, moving into a new place remains an inevitably challenging task. Stress, chaos, and panic are a few of the many words students associate with the process of moving into a new home. However, Prime Student Living, have ensured that this process is as flexible and stress-free as possible. Thus, in light of the fact that our September check-ins are right around the corner, I thought it would be extremely beneficial to outline the many ways Prime supports your check-in process in this blog that will also touch on  exclusive tips, tricks, and advice for the process.

Check-in is a busy time for everyone, and Prime make sure it's as stress-free as possible, with an online system to help you book check-in slots. Don't worry, all important information will be sent to you before your check-in and will allow you to pick the best time and date for you. Train or Flight Cancelled? No worries, let them know. They also have a 24/7 check-in window, so you can arrive on-site anytime! On-site, Prime have friendly staff ready to check you in and the process itself only takes 10 minutes – as long as you have your identity document, proof of your signed tenancy, and proof of your payment ready. Prime can also double-check these online for you.

Additionally, Prime do have trollies available for you to borrow for heavy items and lift can take you to your floors easily, so you don't have to worry about carrying anything. But, do remember that check-in is a busy time and you may need to use the stairs!

Once entering your room, it is important that you do a quick check to ensure all the facilities are of good quality and if there are any maintenance problems please report them to us so we can ensure they are solved for you. You will also be given a form to complete as part of check-in. This form helps ensure that Prime are aware of what your new room looked like, and that you're not held responsible for previous items at the end of your tenancy.

〉   A tip from one student to another – If you are in a shared kitchen, I also recommend that you pick out a fridge and shelf space most suited to you if you are the earliest there. Prime, have try their very best to ensure that you are sharing a kitchen with the type of people you expressed you wanted in your booking form. So, generally, if you requested a quiet flat, your flatmates should also suit that description. This certainly makes your stay more comfortable.

〉   Another student tip – I always recommend that when packing you divide all items depending on where they will be stored in your room. So, kitchen items in one section of your bag, clothing in another, and books and learning materials separate. This means that when you come to unpack in your room, everything is already effectively separated for you. You can also check out our blog on 'What to pack' for moving into our accommodations. Naturally, it is very normal to forget something but Prime can help, they have an one-stop shop will all uni essentials – which can also be delivered straight to your door! If you fancy a walk out, most of our accommodations are located in city centers so there are many places nearby where you can purchase something. For example, our Coventry site is only a 10-minute walk to Wilkos.

When it comes to making friends in the flat or accommodation as a whole, Prime Student Living always recommend that you are kind, friendly, and respectful towards other students. Unlike in your course where you will only interact with people in your academic year and department, in our accommodations, they host Undergraduates, Masters, and even Ph.D. students from all departments and countries. This diversity is what makes Prime so great and they encourage you to make the most of getting to know everyone! Alongside this, our accommodations also host many events such as the 'Welcome Party', monthly Treat Days, and seasonal events, to allow you to get to know everyone better.

So, as you can see, Prime helps ensure your check-in process is as smooth as possible. Please feel free to reach out to us for any questions and comments. Thank you for reading.
---
This blog was written by me, Annika Sirikulthada. I am a Warwick University student living in Trinity View, Coventry. I hope you enjoyed reading it and if you wish to write about your experience or be involved on social – speak to your property team!