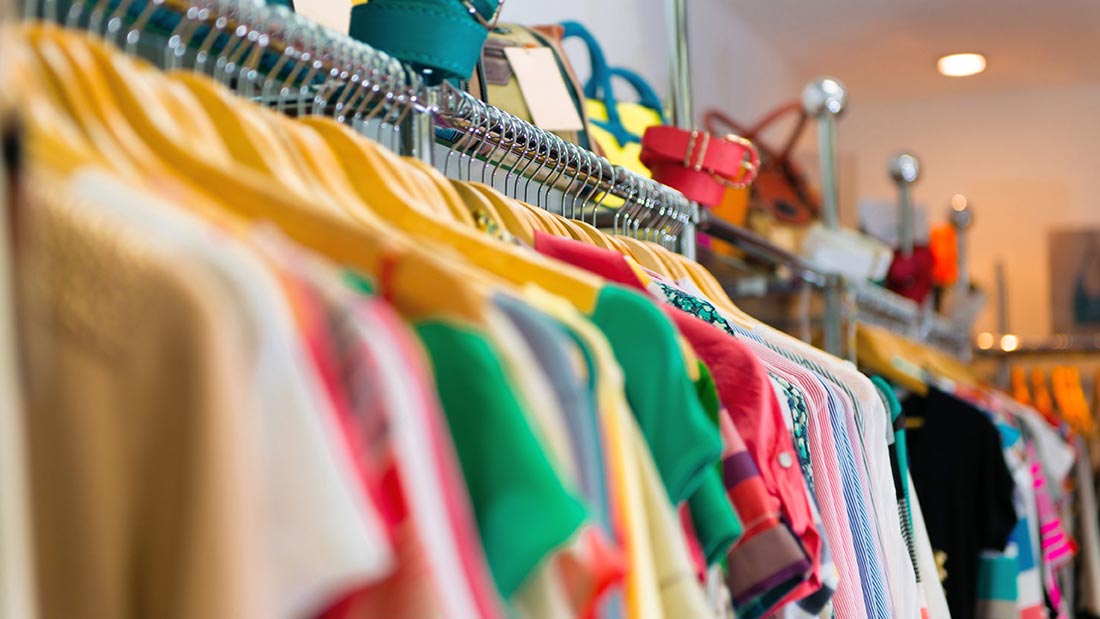 26 Apr

Save the planet… shop at charity shops!

You can help save the planet by shopping in charity shops!

It's no secret that buying brand new clothes all the time is a huge strain on the environment. Fast fashion is one of the biggest polluters on the environment. It's estimated over 7,000 litres of water is used to make a single pair of jeans. 80 billion new pieces of clothing are made every year which is 400% more than two decades ago. So, let's do something about it!

We all know the saying reduce, reuse, recycle, this applies for clothes too! Reduce the amount of new clothes you buy and reuse/recycle ones that are already made.

You're in luck as shopping at charity shops has never been easier. With a huge range of charity shops dotted up and down pretty much all high streets in the UK, you're bound to find some hidden treasure. Look out for popular shops like Oxfam, Cancer Research, Mind and British Heart Foundation.

From designer dresses, hipster sports brands and cosy coats, charity shops are packed full of incredible garments to suit every style. There're no limits to the number of goodies you can walk away with after your charity shop spree. With endless wonderful and wacky bargains, you're guaranteed an eventful trip out. Not only does shopping at charity shops do wonders for the environment and your wallet but it's great to give back to charity and local communities. You can shop happy knowing your purchases are making a difference all over the world.

So, you're feeling inspired to get down to your local charity shops?

Here's a few dos and dont's to help you when you get there

Do…
Get stuck in, have a good rummage on all the rails and in boxes, that needle in the haystack could be worth a lot more than it's being sold for.
Go in with an open mindset, you'll be happily surprised and pleased when you come out with bags full!
Broaden your horizons, try something you wouldn't normally buy, experiment with your style.
Shop unisex especially items like t-shirts and jumpers.
Head down to a charity shop when you're in need of a fancy-dress outfit, get creative with your costume, you'll probably save more money than buying online.
Go often, as many charity shops get new stock in daily.
Try before you buy, make sure there's no marks or holes etc. The last thing you want is another piece of clothing that you're not going to wear, especially when it could go to another home.
Have a look at your wardrobe at home, have you got items of clothing you haven't worn in ages? Why not give your clothes another lease of life by donating them to charity, as well as freeing up some wardrobe space!
Keep an eye out for the labels on clothing to check out their worth. If you don't know a make or label of clothing have a quick search on your phone, you may be surprised with how much that item in your hand is worth.
Encourage your friends as well, why not grab your mates and make a day of it! If you've got a competitive streak challenge each other to who can find the best item for the best price.
Look out for kilo sales around your local city. These are often pop up shops held in halls with hundreds of rails stocked with preloved, often vintage clothes. You can pile your basket high and only pay for the weight of your haul. They're around £15 for 1KG of clothing, which is pretty thrifty in our books.
Don't…
Have a snobby outlook on charity shops, you can get some really amazing pieces of clothes while donating to charity, saving the environment and saving yourself money, which seems pretty cool to us.
Expect every trip to a charity shop to be successful. Some days you'll find lots you want to buy and some you might not be so lucky, don't a let an unlucky streak put you off finding your hidden gems.
Rush through, take your time and get stuck in.
Be afraid to haggle the price down a little if an item has a small hole or mark. But at the same time have in mind you're donating to charity, so every little helps.
Let the mindset of clothes belonging to someone else before put you off, you can always pop them in the wash before you wear it.
Be afraid to go in charity shops you haven't heard of before, chances are they're an independent charity local to you.
Forget to bring a bag along with you when you're out on your charity shop adventures!
The next time you catch yourself heading to your favourite online fashion website or high street shops, check out your local charity shop first. As you're bound to find something that has the exact wow factor you're looking for. Donate, save some money and better yet help save our planet!